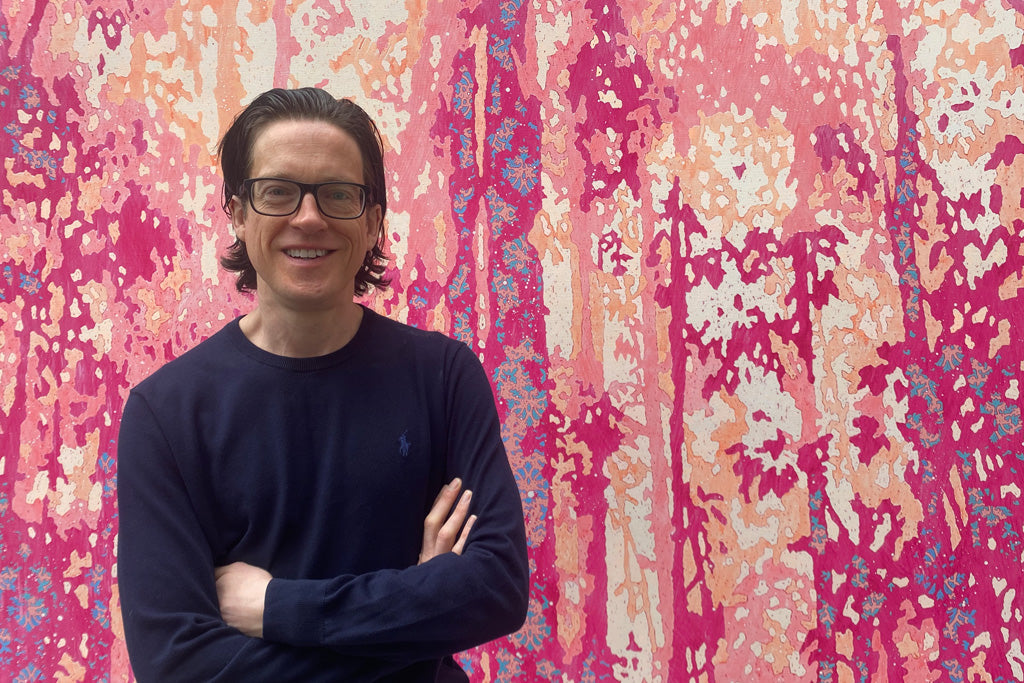 Adam Ball in his London studio with his work, Respair, 2020, oil and acrylic on canvas, 60in. x 72in.
It is late afternoon London time, and we have given contemporary British artist Adam Ball a buzz. He takes our call from his studio, a place where he has spent an extraordinary (and unexpected) amount of time since the world first went into pandemic-related lockdowns a year ago.
We're on the line to chat with Adam about his latest collaboration — a work created specifically for Eve & Max's newest collection. The work is quintessentially Adam: Energetic and observational in nature, the oil and acrylic painting transforms various shades of pink into abstracted elements that recall a densely wooded landscape. The work, titled Respair, was commissioned specifically by Eve & Max founder Max Trowbridge and comes to life printed atop silk charmeuse for dresses, kimonos, camisoles and more.
While the work certainly takes its color inspiration from notions of hope and joy that we all hope to embody as the world looks to re-open post-pandemic, its natural landscape motif was inspired by the rainforest — one of the world's most beautiful and most endangered habitats. Respair emerged after Max and Adam discussed at length the vision for and usage of the work. The result is a piece of art that is not only artistically aligned with Adam's creative ethos — but one that would reproduce effortlessly when employed for textiles on Max's designs. The result is the purest form of fine art and fashion colliding.
Adam is known for his richly detailed work that combines nature and abstraction in large-scale formats. His compositions result from closely observed source material, from images of his own DNA to digital mappings of human movement. The intricate and evocative works provide a decidedly modern view of nature in a 21st Century, technological world.
Here, a snapshot of our conversation, which ranged from a discussion on the importance of finding one's voice to the things we miss most about viewing art in person.
Stacked works in Adam Ball's London Studio, taken during lockdown in summer 2020.
First and foremost, how have you been holding up in London during lockdown?
The upside of lockdown has been that I've been able to refocus and build a new body of work. I usually do a lot more travelling, exhibiting and all the stuff that comes with putting shows on. I would normally do four to six exhibitions a year, at least one solo and maybe two and a couple group shows. I was all set up to do that [in 2020], and, like most people's world, it all got cancelled from March onward. I'm quite excited and inspired to create this work in such an uninterrupted time.
How did this collaboration with Eve & Max occur?
I've known [Eve & Max founder] Max for quite a long time. I've exhibited at MTV Re:Define. I've had a relationship with Dallas for years through Kenny Goss and the Goss-Michael Foundation. I had my first show in Dallas, with what was then the Goss Gallery in 2007. I love Dallas. Max knows my work and owns my work. When she asked if I would create something for her collection, I was quite excited. We've had many calls and discussions, and therefore, it's given us the time to work out what we're doing and what we want to say. I specifically made a piece for her for this project.
What is the painting Respair inspired by, and what methods do you use?
The starting point for Respair was the Taman Negara rainforest in Malaysia, where I had spent some time trekking and documenting what I saw. When Max invited me to collaborate, I wanted to create an edited version of this experience, reflecting nature's life and energy. I created the painting from black and white images so the colour is freed from any formal representations and can be solely used to express the vibrancy of life, recapturing a positive, euphoric connection with nature at a moment when we most need it. I also added a pattern, inspired from old Victorian wallpaper, that was methodically painted in oil as a reference to the vastness of a rainforest stretching out in all directions, but something that would also work well as a repeated pattern printed on silk and echoed ad infinitum.
The art world has been particularly challenged by lockdowns and COVID-19.
While the art world has been in quite a bit of trouble and significantly disrupted, I think there's quite a lot of people out there who are still interested in art, still looking at art and still buying art. But I [sympathize with] my friends in the music world or the theatre world, or those who are just starting out in an art-world career. It's just so hard.
How has your work evolved since your earliest years as an artist?
The work I'm making now is almost unrecognizable and is very different from what I was making at the beginning of my career. I quite like experimenting. I'm constantly pushing [boundaries] with materials or processes. I make a body of work, and then that informs the next body of work. I always want to push myself and see what I can do — and so that's how one piece can lead to the next. But at the same time, I think it's crucial to evolve at a pace that allows your audience to still know the direction you're going.
Has Covid accelerated the pace at which your work has evolved?
Undeniably, it has had an impact. Because there are fewer distractions, more time in the studio and hardly any studio visits, I've been making slightly different types of work. Most creatives, at some stage, have some sort of creative block, and often, for me, it would come just after an exhibition. It was the most painful process. When you're drained after the previous exhibition, and you go back into the studio, it's really quite painful.
As I've got older, I've become better at dealing with that and predicting when it might happen. I've been doing that equally during lockdown — trying not to put myself too much under pressure. I've learned with time how to deal with some of the artistic uncertainties. But still, it was pretty demoralizing. At the beginning of last year, I had quite a lot of plans, and within a week, it was all cancelled.
You have worked with fashion designers in past collaborations, working with the late L'Wren Scott and shoe brand Clarks. What appeals to you about the intersection of art and design?
There's a very natural dialogue between the two. The thing about a great collaboration is when you combine A and B and end up with something you couldn't have got to on your own. I find it a great way to reach new territory. Being an artist is quite a solitary process, so collaborating is quite exhilarating.
Tell me about the work you did with L'Wren Scott. Your white-on-white cut-out works served as the backdrop for her Fall 2009 ready-to-wear collection.
All collaborations should be quite organic. My collaboration with L'Wren Scott was very much that way. [L'Wren's then boyfriend] Mick Jagger bought her a piece of mine. It hung in her studio, and it started influencing her collection. They got in touch and asked if I wanted to collaborate. We have a lot of the same views on attention to detail.
How did you and Max approach the work and how it would appear on a garment?
To me, the most critical thing is artistic integrity — and I don't mean that pompously. As an artist, if I'm going to do any type of collaboration, I need to do it for the right reasons — and those reasons must be art-led. So, we really discussed it and did it properly. I said, let's talk about what you're doing and what kind of work might fit and then I'll make a piece that makes sense.
Vivid color and an abstracted forest motif serve as important inspirations for the work you created for the collection. Tell me about the piece.
We wanted to make a piece that felt bright and optimistic. The painting is called Respair, which means "a return to hope." I wanted to create something that would also reproduce quite well. The use of color, imagery, the title, and the discussions we've had about the work have all come about because of Covid and lockdown. I wanted to make a piece that is a bit euphoric and joyful. It was very much a response to those feelings we're all trying to deal with and the uncertainty.
Do you consider fashion to be fine art?
I don't think I have a definitive answer. Artists now collaborate and work in many different fields in ways that they couldn't have done going back 50 or 100 years because it would have been seen as selling out. Artists now have a lot of opportunities to work with brands and do more commercial projects. But the kind of work an artist makes with the idea of exhibiting — when the art is made for that end, solely, rather than for product reasons — is a very different prong of the same thing.
Artists can and do collaborate, and the merging of the fine art and the fashion worlds continues to be blurred, but I still think fine art is very distinctive and separate. There's no negative to collaborating and trying out lots of prongs of your own artistic pursuits, but I think before you can merge with other disciplines, you have to get to a stage in your career as an artist where you find your voice. And it can take quite a long time. I think finding your voice is super important. Once you've found it, you know who you are and the kind of work you want to do.
Is it a question of whether or not you're making art for art's sake?
I worked on a large architectural creative project with HOK International. I made a work that sits on the outside of Royal Papworth Hospital in the U.K. It's public art, but it's structural, and being able to work on projects like that are great — but it's not something I could have done 10 years ago. You need to have a clear idea of the kind of work you want to do.
Can you pinpoint the moment you feel like you had found your voice as an artist?
By the time I did my first solo show in the U.S. in 2006, I had been making work permanently for 11 years. When I look back, it's roughly around then that I knew who I was as an artist. I think I had found the essence of what I was trying to do. There's a lot of resonance with what I was making then. When you first start as an artist, you've got to experiment, and frankly, you've got to look and borrow, make it your own and learn from your failings. You learn the kind of art you don't want to make and the kind of work you do want to make. And that takes time. Having the ability to let that happen slowly over time is really important.
Can you define the essence of your work that you just mentioned?
I have a belief that a narrative is really important in artistic pursuits. I think it's important that there's some background information, some depth and that I could discuss where the work came from. If I look back at my career, there is always some sort of underlying narrative. Although my work might have been much more landscape-based then, the things I grapple with now is still rooted in observation — in the landscape, the galactic level, the biological level.
What do you hope people feel or gain from viewing your work?
I try not to be too prescriptive about telling people where the work comes from or what it means. But I think it's important to understand the content and the narrative. I try to make work that, when viewed from two feet, is more interesting than when it is being viewed from 20 feet. As you get closer to my work, you get rewarded, and you get some sort of payback. It's about the surface and the subtlety. My work is fairly time consuming and painstaking. I make about 15 works a year, so many, many hours can go into one piece. Each artwork can look different from far away, and as you get closer, some of those processes become apparent — the layering, the surfacing. That's why I think exhibiting is so important — so you can see the layering of things.
Do you think art is more powerful when viewed in person?
That visceral reaction is stronger and more dynamic when art is viewed in person. I would hope that if I then spent a few minutes with someone looking at my work that the artwork would be more rewarding. All good art should be more interesting once you know a little bit of a background about the artist or the reason it was made. The visceral response is essential, but the background narrative should add to the viewer's experience.
What projects do you have on the horizon?
An exhibition this May in Bristol will finally open, and I'm doing another group show again in May in London, which has just been confirmed. One of the big shows I was going to do in May of last year now looks like it might happen in the middle of summer. The great joy will maybe be the great awakening when we can all come out of our lockdown, particularly in London, where it has been pretty dark and bleak. I'm hoping all of these projects may still get realized in one great big wave of creativity. But if Covid has taught us anything, it's let us not make any predictions.