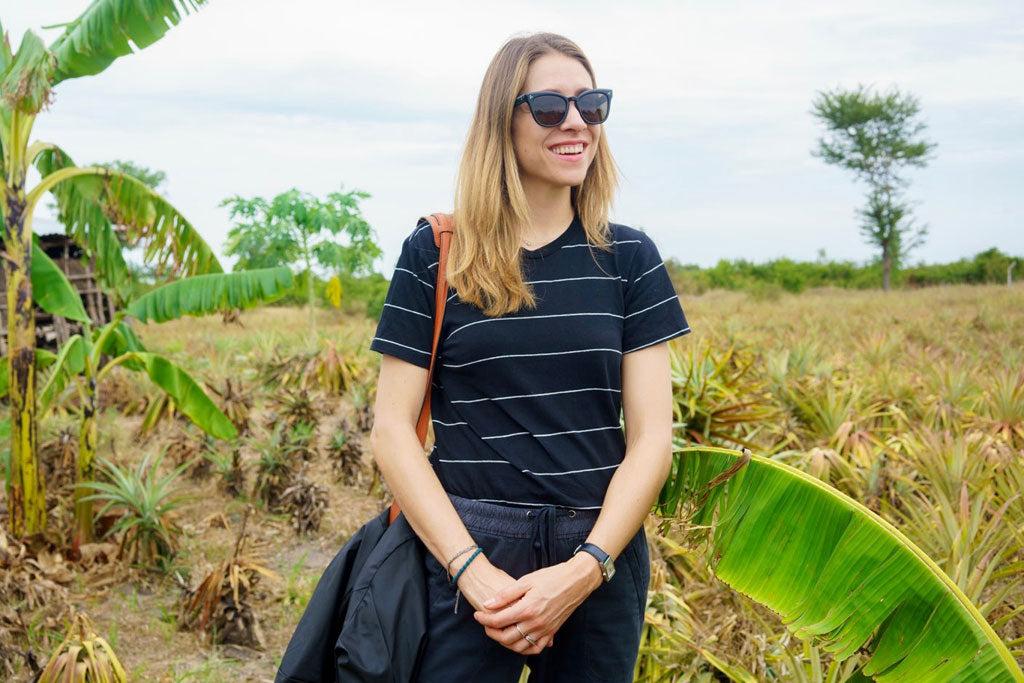 Eva Yazhari on the farm of East Africa Fruits in Tanzania, a portfolio company that connects rural farmers to markets
Finding purpose and meaning in life is an ongoing journey and one that I constantly ruminate. It's simply not enough to exist; however, it's our obligation as humans to consider the impact of our existence. In some small way, how does one contribute to the world, protect our environment, and support other people with good intentions? Well, I know someone who wrote the playbook for this very question.
With the recent debut of her first book, I asked my dear friend Eva Yazhari, CEO of Beyond Capital Fund and author of The Good Your Money Can Do, to share her powerful, thought-provoking sentiments on social impact investing. Essentially a guide on how to apply good intentional efforts to your social impact mindset and your financial investing. If this is a topic you know nothing about but always intrigued to learn more, then this is a good read for you.
The Good Your Money Can Do, by Eva Yazhari
What does Beyond Capital do, and what is social impact investing?
Beyond Capital is an impact investment fund founded on the core belief that the true power of investing lies in aligning one's money with one's values. Especially now, in the era of a global pandemic and the movements for racial, social, and economic justice, investing with our values front and center are paramount to achieving more equity and integrity in our societies.
When I founded Beyond Capital in 2009, we set a clear mission: to demonstrably and sustainably improve the quality of life and standard of living for consumers at the bottom of the economic pyramid. We centered our efforts on India and East Africa, where the lack of access to basic goods and services is one of the world's most pressing issues. We then honed our focus even further to select social enterprises working in healthcare, food security, financial inclusion, clean energy, and sanitation, where we felt we could make the most impact.
To date, we've built a successful 12-year track record. Our investments have reached more than 8 million people, 5.9 million of them women, living in the world's most impoverished communities, with every $1 we invest impacting the lives of over 20 individuals.
This is the essence of social impact investing -- an investing strategy that focuses on companies, organizations, and funds to generate social impact alongside financial returns.
How does your investing align with your personal purpose?
After starting my career and spending more than a decade working in private equity and investment banking on Wall Street, I was inspired by the moral philosopher Peter Singer and his influential book, The Life You Can Save. I am fortunate to have a family history of public service and was motivated to follow in my grandfather's footsteps after hearing stories of his time spent operating a health clinic in the 1950s and 1960s in East Africa. I have been endlessly inspired by his example of how giving back can fuel a life filled with purpose. I knew I wanted to create an organization that would marry money with meaning.
The values that drive us to do good are different for everybody. The areas I wish to contribute toward are gender equality, zero poverty, diversity and inclusion, climate action, and education—all in accordance with the Sustainable Development Goals. To begin defining your values and areas of focus, start by examining your upbringing. It is likely that what you grew up to care about—and what your family raised you to value—will have shaped your own beliefs.
You just launched your debut book, The Good Your Money Can Do; what inspired you to write this book, and what can we learn?
I was inspired to write The Good Your Money Can Do based on my own experiences with navigating the world of impact investing. When I left my Wall Street career to dive into the then-nascent world of impact investing, I was met with skepticism and, worse yet, dismissal by investment advisors. So, I conducted my research, shifted my mindset, and questioned the status quo. I stayed determined in the face of naysayers and remained hopeful in the community I found and built of those investors who shared my mission.
My goal for The Good Your Money Can Do is to serve as a playbook for anyone interested in becoming more aligned in their investments and values. I hope my journey will inspire readers to ask themselves how they can un-tap the potential of their money to make a lasting positive impact in the world. As I write in the book, "think of conscious investing not just as asking more of your money, but also asking more of yourself."
Eva Yazhari, CEO, Beyond Capital Fund
How can women consider investing for good?
A recent survey at a private bank showed that 90 percent of women surveyed indicated that they want to invest at least a portion of their wealth in a manner that aligns with their values.
Even well into the 21st century, there remains a persistent stigma that keeps us from talking openly about our finances to our family, friends, classmates, and colleagues. There is also a historical tendency for money to be a man's business (this is still common thinking in many parts of the world), leaving women and children out of the conversation. This phenomenon persists despite the increasing parity between the wealth of men and women, with women controlling 51 percent of the wealth in the United States and representing an increasingly greater share in the coming decade. Still, a UBS study found that the millennial women surveyed exhibited less financial independence than the women it surveyed in the baby boomer generation.
Investing platforms such as Ellevest streamline the process for new and seasoned investors who care about social returns as much as financial returns. Ellevest CEO Sallie Krawcheck and her work in empowering female investors served as inspiration for The Good Your Money Can Do.
How does your book and work ethic identify with the United Nations Sustainable Development Goals from a fashion consumption aspect?
Leaders at the United Nations unveiled this set of seventeen goals in 2015 in the hopes of creating a more equitable and sustainable world by 2030. These goals are focused on ending poverty, fighting inequality, and addressing climate change. The Sustainable Development Goals (SDGs) serve as reference categories around which investors can design their intended social and environmental impact and envision what is possible.
Goal number 12 is Responsible Consumption and Production, which new sustainable brands like Eve & Max are addressing. However, fashion consumption addresses many more SDGs, including Goal 1, No Poverty; Goal 5, Gender Equality; Goal 13, Climate Action, making it a perfect starting point for a consumer who wants to align multiple personal values with their conscious consumerism.
I also recently spoke with Marci Zaroff of ECOFashion Corp on The Beyond Capital Podcast. Marci is an eco-lifestyle pioneer who coined the phrase "eco-fashion" in 1995. Since then, she has built a "greenhouse of brands", including a range of lifestyle companies that empower conscious consumers and businesses to live more sustainably without sacrificing style, comfort, or affordability.
Sustainability is shifting from the fringes of mainstream culture to its very center, and we all have a part to play in the transition. There are win-win solutions for investors, consumers, and producers to use all resources for good.
Before becoming a conscious investor, how can we become conscious individuals?
Being a more conscious individual means examining where we're focusing our time, energy, and, yes, our finances. We live in a special time when purpose and meaning are shining through to every area of life—both in the day-to-day choices and the momentous decisions we all make as human beings sharing this planet.
The first step to becoming a more conscious individual is to think about what truly matters to you and your values. Perhaps you are passionate about saving our world's oceans and their ecosystems from plastic waste. Maybe your focus is on making healthcare more equitable across the globe. Or, you are centered on supporting women-led businesses. By homing in on those issues and what you can do to help find solutions, you can be more intentional and effective in all of your efforts. From there, you can recognize the importance of living your life by leading with your values and practice being wealth conscious by setting your idea of wealth to one of abundance.
Being wealth conscious is a mindset that connects money and meaning. I have found that there is a direct correlation between giving back and success. Wealth consciousness is rooted in the viewpoint or mentality through which someone views wealth. A Sufi proverb states: "Abundance can be had by consciously receiving what you already have." Put simply, abundance and lack are typically two sides of the wealth consciousness spectrum. We can choose to appreciate what we have in our lives, be intentional and purposeful with how we spend our time, earn a living, and impact the world, often bringing greater meaning beyond ourselves. On the other end of the spectrum, we experience a lack if our only goal is to make money without regard for purpose. In that case, no amount will ever be enough.
Part Two in your book discusses how to become a discerning consumer. Please highlight your best thoughts on achieving this?
How to be a conscious individual also applies to being a discerning consumer: It begins with defining your values. What are you passionate about? Concretely, if you care about the climate emergency, stop using single-use plastics today. Yet, do not beat yourself up if you cannot do it all at once. You can also advocate for large companies to do more and provide better options.
Know what you own and review your options carefully to ensure your resources are being invested in line with your values. It also helps to surround yourself with a community that supports your impact goals. As the famous Max Lucardo quote says, "No one can do everything, but everyone can do something."
You've interviewed many inspiring entrepreneurs and CEOs with businesses that focus on good via your Conscious Investor magazine and podcast. Name a few companies and leaders that would inspire us and why?
We've had the honor of talking with several purpose-driven leaders such as Ian Walker of Left Coast Naturals, Jeffrey Brown of Brown's Super Stores, Suzanne Lerner of Michael Stars, and Ajaita Shah of Beyond Capital portfolio company Frontier Markets.
I admire fashion entrepreneur Suzanne Lerner so much. Lerner exemplifies the notion of acting in accordance with one's values. When Lerner founded her company, Michael Stars, which became a well-known brand in the eighties, she did so with the value of women's equality foremost in her mind. Aside from using her status as CEO to amplify her voice, Lerner also reflects her values in other ways. Her company, Michael Stars, for instance, produces T-shirts with the statement "Feminism Is for Everybody." Further, her investment portfolio is 100 percent aligned with her values.
Suzanne does not stop there, however. She is politically active and wants to help change policy to make a difference for diversity in corporations and gender rights across the board. With her political activism, she supports LGBTQ+ rights and racial equality as well. Her active citizenry work has become a natural extension of her values in the same way her business and portfolio are. Now, you can benefit from her example by applying her approach to multiple areas of your life.
These inspiring leaders are all changing paradigms in what it means to run a social enterprise. Ajanta's story with Frontier Markets is also particularly fascinating. She is redefining work for rural women in building a company that can scale across rural India quickly.
How can investors and consumers avoid greenwashing?
At Beyond Capital, we conduct a rigorous due diligence process into each of the companies we seek to invest in; it's a critical part of our investment framework. Our Director of Social Impact, my friend Matt Raimondi, is also an Associate Director at Sustainalytics, a research, ratings, and analytics firm that tracks the Environmental, Social, and Corporate Governance (ESG) efforts of more than 12,000 global companies in emerging and developed markets.
Unfortunately, the phenomenon of greenwashing is present in impact investing, as it is in the world of consumer products; this is why it is crucial to implement your values directly, rather than converting your resources to generically categorized impact investments. Clear values create a compass that can guide your decisions and set a benchmark for measuring success. In other words, you need to do your homework.
It is essential to keep a keen eye and an open mind to build a portfolio that truly matches your values. Some simple common questions to ask are how does the business make money? Does the company's business model add up to a sustainable and profitable business? Are its activities extracting or creating value for the stakeholders?
What are your best suggestions on how we can be productive citizens of climate change?
It is important to acknowledge that our actions do not exist in a vacuum. If you are not aware of this, then even the most well-intentioned efforts risk doing more harm than good from time to time. A critical component of creating a positive impact is understanding the environment in which you are acting.
Life is a series of personal choices, and as an active citizen, your choices have broad effects on your surrounding environment. Investing the wrong way or not knowing what your money is doing is a personal choice as well—and these choices can have lasting consequences, as is evident when considering issues such as climate change or lack of diversity.
By recognizing that all of our actions have consequences—and no investment is neutral—and we can spend our time, money, and resources on organizations contributing toward a cleaner, safer, healthier planet. Once you start living, consuming, and investing in a purpose-driven way, it isn't easy to turn back.