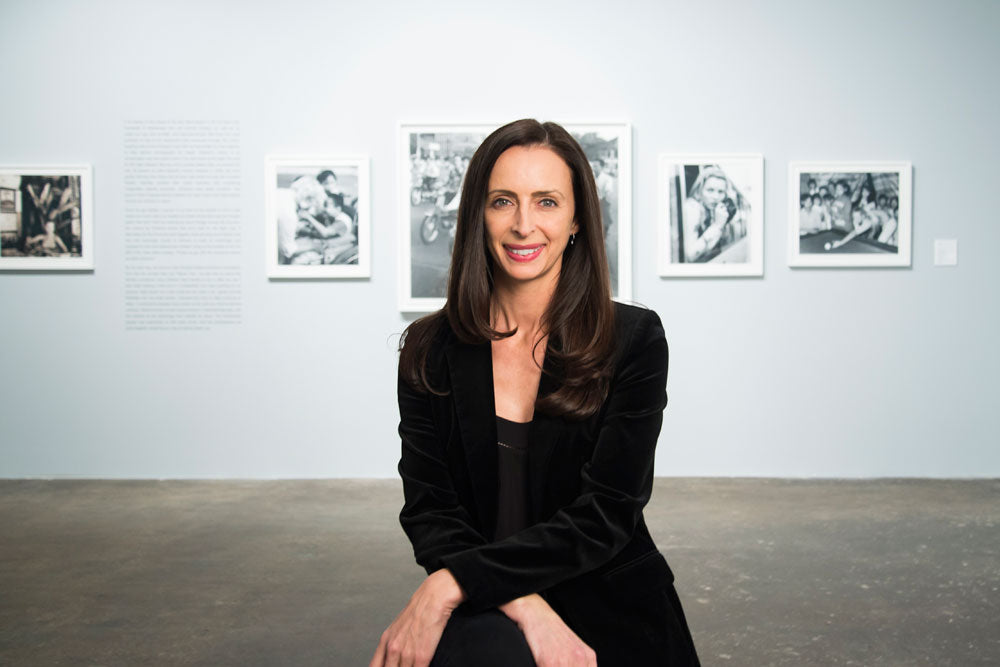 Max Trowbridge visiting a Bruce Weber exhibition at Dallas Contemporary. Photo Credit: Rachael Wise
For as long as I can remember, fashion has been at the epicenter of my life. I studied design at London College of Fashion and then went on to work at renowned British fashion house Mansfield. Everything by Mansfield was made in England — and we dressed the likes of Princess Diana and Princess Anne. It was there that I first learned the importance of establishing a brand's heritage, and ultimately fell in love with the inner-workings of the luxury fashion industry itself. Since then, my career as an entrepreneur has led me from the early world of digital media to the editorial side of glossy magazines. My philanthropic endeavors have long revolved around fashion, and social good — and I've developed an enduring passion for contemporary art. Thus it is only fitting that I am taking a long-awaited leap, returning to my roots and launching my first ready-to-wear line, Eve & Max.
In many ways, this company is 20 years in the making. In 1999, I wrote my first business plan for a trunk-show driven, digital brand that utilized the power of the internet to eliminate the need for wholesale. It was quite similar to what has now become my larger vision for Eve & Max. Back then, the concept was ahead of its time: We were decades from the direct-to-consumer model taking the fashion world by storm; sustainability wasn't yet a buzzword in the industry; and environmental distress wasn't commanding headlines the way it does today. 
Two decades later, I found myself at the start of a new journey — one that would reference my decades-old plan, with added attention to the social and environmental issues I am passionate about. The first spark came in 2019. My husband was on the tail end of a successful battle with cancer — and with the notion of mortality weighing heavily on my mind, I found myself asking the same question: If not now, when? I tossed my fears out the window and decided to finally pursue fashion design again in full force. The result is what you see, here.

My brand ethos starts with the name: Eve serves as a symbolic nod to the mother of all living. (Both of my grandmothers were also named Eve, derived from Evelyn) And Max serves as a reminder of the human connection to our earth. As a company, my hope is that Eve & Max will nurture a sustainable journey, respect all that is living and embrace the world with love and care.
My aim is to grow a business that empowers women to buy less and shop smarter. I am passionate about the environmental issues that impact our society and planet — and it is with great humility that I hope to nurture a socially conscious, ethical business model that respects the planet, while presenting women with beautiful clothing made of environmentally friendly materials whenever possible. 
To reduce waste, I will create one collection a year, available on a pre-order basis through virtual and in-person trunk shows. Each piece is intentionally designed to be seasonless and timeless — and in an effort to unite the realms of fashion and art, each season will include a limited-edition collaboration with a contemporary artist. I'm pleased to release my first collaboration with New York-based Ruben Burgess, Jr. — a talented young artist, who works in natural materials such as turmeric and wine. His work is often inspired by fashion, all while being both haunting and beautiful. His work is the perfect image to adorn my organic cotton tee. 
While I hope you turn to Eve & Max when it comes time to add a new staple to your wardrobe, I also encourage you to join our community as we embark on a socially conscious conversation about the little steps we can take to make the world a better place. I'm of the belief that sustainability doesn't need to be an overwhelming topic; and it shouldn't be a buzz word or a trend used in an industry fraught with waste. To me, sustainability is a lifestyle and a journey: It is a means of living with intention and taking the steps, no matter how small, to make this planet a healthier, happier place for us all.
With gratitude,
Max Trowbridge
Founder, Eve & Max