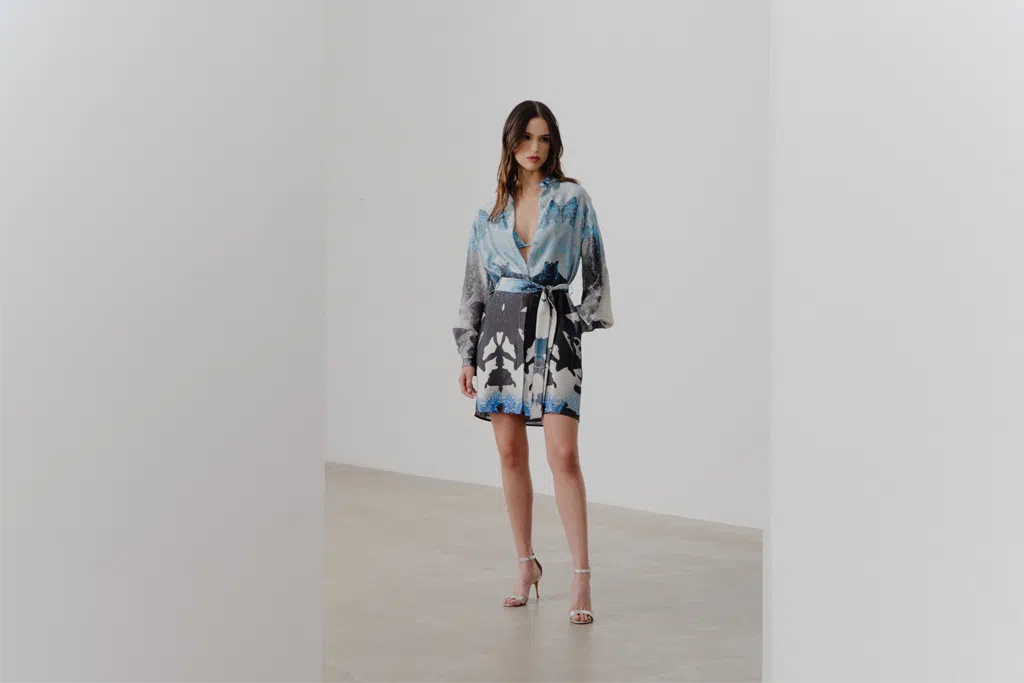 Limited-edition print Blue Inferno – Kathryn silk charmeuse shirt dress styled with Marie bikini top
For their latest collection, Max and Samudra looked at the work of Fort Worth native Zeke Williams for a collaboration in print — an artist whose oeuvre takes inspiration from contained chaos. Williams' highly controlled splatter paintings are an abstraction of spray-painted and stenciled florals layered with noise achieved via digital tools and carefully manipulated paint.
Dubbed Blue Inferno, this collection translates Williams' complicated yet delicate acrylic on canvas work onto loosely tailored and printed silk shirt-dresses, blouses and pants. On the eve of the collection's debut, we spoke with Williams about everything from his love-hate relationship with gardens to his circuitous journey to becoming an artist — and the little laugh we should all give to the rare-air realms of fine art and fashion.
Artist Zeke Williams. Photo Credit: Kevin Todora
Before we talk about fashion, tell me a little about how you approach your work. I make very graphic work. It always involves computers and CNC machines in their design and making — but it also involves a fair amount of intuition and chaos in the painting step. I'm an artist — but at one point in my life, I was a passable software developer. I am pretty math-y for an artist and pretty systematic. I tend to develop a system and then execute it over and over until I've exhausted any power I see left in it.
Your collaboration with Eve & Max isn't your first foray into applying your art to the world of fashion. I made Erin Cluley (Erin Cluley Gallery) a painting of her wearing her wedding dress, which turned out pretty good, so I did some floral dresses. My wife and I had been going on walks in parks, looking at flowers, and taking pictures of them. (I'm not a big garden guy. My parents are landscape architects, and I grew up going to every garden in the country.) I brought the pictures of the flowers into Adobe Illustrator and started layering in my painting technique, getting more chaotic by adjusting the splatter. 
So, the work evolved and took on its own life.  Working with the super-splatter and the stencils added some chaos to the work. I made several red ones that were like various kinds of infernos. Even though they were floral images with spray paint, they became this otherworldly fire landscape.
And so came the starting point for the work that inspired Blue Inferno. When Max and I started talking about this project, Max had selected one of those paintings, but it was red — and she wanted blue. So, I made some color changes in Photoshop. I added more splatter. Then, I played with it to make it into a pattern, which is pretty challenging, creating from a painting to a pattern, so I had to add more chaos to it to make it work. There's some real splatter; then there's some Photoshop air-brush splatter, and then there are some actual flowers, but it's pretty far separated from the source material.
How was it working collaboratively with a fashion designer? When you're an artist, you spend a lot of time on your own, but I like the company of people, and I enjoy looking at fashion and talking to people about it.
You mention chaos quite a bit as it pertains to your work. How do you define that? When I talk about chaos in this sense, I'm talking about noise in the image. The funny thing is, of course, it isn't chaos at all; it's planned. There are things you don't know how they will turn out — and those create some noise. And then, you add noise on your own, which is kind of cheating but totally fine. All art is lying and cheating. You create these systems — and there is truth in those systems — but you break the rules every time to get where you wanted to in your head originally. Theoretically, you give yourself to the process and the machine, and then you steal it right back.

It's closer to photography than painting — it's about processing images. But the reality is, it's paint. In the end, I'm making many decisions, and I can't say that I'm letting chaos do what I want.
How did textile choice, pattern and the human body impact your work for Eve & Max? It's all very flowy and fluid. That lends itself to a lot of different patterns. In a way, it makes itself compatible with whatever design you choose, but there's also a comfort level embedded in that work. It's an elevated comfort, and it's not a cheap comfort. These are not sweatpants. But they're sort of elevated sweatpants, in a way.
What are the differences between being the artist and the consumer? Being an artist means you can never afford your art and can never really access expensive clothes. There is this dichotomy between having access and having the means: It's about intellectual access versus physical access. You're often surrounded by many people who have had enormously different lives than yours.
When did you first feel called to make art? I'm from Fort Worth, Texas. I remember going on a field trip to the Modern Art Museum of Fort Worth when I was 12 years old. I remember there were three Ellsworth Kelly works right when you walked in — three monochrome canvases. I remember they were very simple, very overwhelming. And, you know how people see art, that it's minimal, and they think, "Oh, my kid can do that. It's bullshit." Well, I saw that and thought, "Wow. I can do that! That's awesome." I loved their audacity, and I fell in love with those works. I've always loved museums, but there was something about that moment that I thought, "I think I can do this."
And it all played out from there? I went to school and got an art degree, but I assumed that wouldn't be my job. So, I went out in the world and started getting corporate jobs. I worked in sales, inside sales, project management, and production management, and I ran a screen-printing shop for a company that got sold to Amazon. All the time, I'm working as an artist's assistant and going to The Chinati Foundation in Marfa and making paintings at home, assuming no one will see them.
Not the most direct way to pursue an art career... After [the company I worked for] was bought by Amazon, I had a year's worth of money saved, and I taught myself computer programming and started writing art criticism. After a year of that and visiting every gallery in town, I started taking my painting a little more seriously. Erin Cluley did a studio visit with me — and since then, I haven't really looked back. I realize I had been trying to do it my whole life, but I never planned for it whatsoever. It just came to me. The work got good, but luck lined up just right to make it work, so I just got there when I needed to get there.
How do you view fine art and fashion's differences (and similarities)? Are there trends in fine art? Certainly, but fashion is structured for trends because of the various seasons and shows. It is structured for resale and changing so we can sell more — although I know part of the Eve & Max brand is against that. Art is not really structured that way.
Do you consider fashion to be fine art? Certainly, fashion is an art form. Is it fine art? It really depends. To a certain degree, commercials are art; pornography is art. The question is: Is it good? There are also some good commercials. Fashion is an art form with a lot of commercial weight driving it, which art allegedly doesn't have because we have these apparatuses (museums, academia) that allegedly prevent that from happening. I think fashion can be a lot sillier, but it can also take itself seriously. Fine art is very serious but laughs at itself a lot — in the back room, at least. I think fashion is the other way. It's laughing at itself less, but it's a seemingly frivolous thing.
Zeke Williams is represented by Erin Cluley Gallery in Dallas, and will be presenting at Untitled Art Fair during Miami Art Basel, 2022.